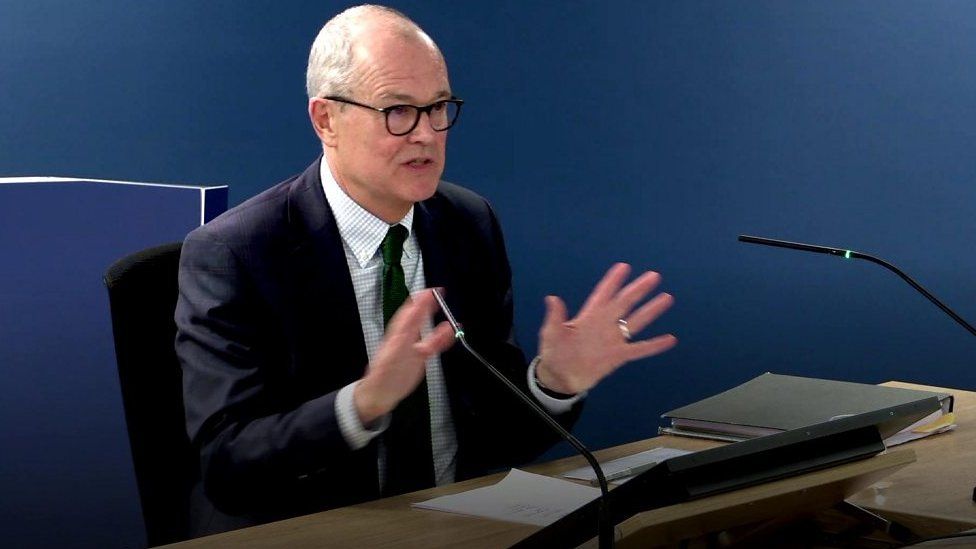 There was a complete lack of leadership as Covid cases rose in autumn 2020, the Covid inquiry has heard.
By mid-October, the then prime minister had become frustrated by talk of a second lockdown, the UK's chief scientific adviser in the pandemic, Sir Patrick Vallance, wrote in his diary.
He reports Boris Johnson saying it was time to let it rip as "most people who died have reached their time anyway".
But within weeks, a month-long lockdown was under way in England.
'Indecisive PM'
The diary excerpts – read out as Sir Patrick gave evidence to the inquiry, on Monday – say by late October, Mr Johnson had appeared to swing behind the idea of more restrictions, saying the numbers were "terrible".
"He is so inconsistent," Sir Patrick writes, on 28 October. "We have a weak, indecisive PM."
Mr Johnson's special adviser, Dominic Cummings, had said: "[Then Chancellor] Rishi [Sunak] thinks just let people die and that's OK", according to Sir Patrick's diary
Sir Patrick wrote at the time: "This all feels like a complete lack of leadership."
Commenting on it now, Sir Patrick said he had been recording what must have been "quite a shambolic day".
As the pandemic stretched into the autumn of 2020, Sir Patrick repeatedly stated the UK had to go "earlier, harder and broader" than the country would have liked, to keep on top of the virus.
Asked about that phrase at the inquiry, on Monday, he repeated his view the UK had failed to act quickly enough in the first wave of the pandemic, in March 2020.
Similar mistakes had been made later in the year, when certain areas of England, such as Leicester and Liverpool, had been put into enhanced measures because of the spread of the disease, Sir Patrick told the inquiry.
"The temptation is always to make [the restrictions] as limited as possible – and then that fails because the surrounding areas immediately got overwhelmed," he said.
This had been seen very clearly in October 2020 under the tier system of regional restrictions, where "every MP" had argued their area should not be placed in a higher tier, with tougher rules on meeting up and opening businesses, Sir Patrick said.
'Slower pace'
Counsel for the inquiry Andrew O'Connor KC also asked him about the psychology decision makers had had towards pandemic restrictions.
In the first wave, Sir Patrick reiterated, lockdown had not come "early enough" and there had been only a "trickle-in of measures".
He had noticed a trend of decision makers arguing to introduce restrictions "just a little bit less" than they had needed to, Sir Patrick told the inquiry.
And the temptation in government had been to make measures "as limited as possible", with MPs routinely arguing their areas should be in a "lower tier".
But Sir Patrick also revealed he had sometimes disagreed with the UK's chief medical adviser, Prof Sir Chris Whitty, about whether to introduce restrictions.
In his evidence statement, read out by Mr O'Connor, Sir Patrick makes reference to the fact Sir Chris had wanted to go at a slower pace both in spring and autumn of 2020, ahead of the lockdowns.
Sir Chris's remit included public health, so he had been more focused on the consequences to people's health of restrictions, Sir Patrick said. And it had been "useful and helpful" to debate these with him inside government, .
Sir Patrick also cast doubt on written evidence the Prime Minister, Mr Sunak, had supplied to the inquiry.
A section of prime minister's witness statement was read out in which he said no-one had raised concerns about the Eat Out to Help Out scheme to him – he was the architect of the policy when he was chancellor in the summer of 2020.
But Sir Patrick said the offer, which gave people eating out a discount on their food to encourage people to return to cafes and restaurants, was "likely to increase transmission of the virus".
And he added that he would be "very surprised" if any ministers did not understand that.